What is the purpose?  
The Status module is the interface in eRA Commons that allows project directors/principal investigators (PD/PIs) and signing officials (SOs) to track the status of award applications through the submission process, view all applications as well as notice of awards and other key documents, and perform several post-submission and post-award transactions.
For additional details on how to track your application, please visit Submit, Track and View Your Application on the NIH Grants website.  
Access and Screenshots
Status is accessed by logging into eRA Commons (https://public.era.nih.gov/commons/) and clicking the Status tab.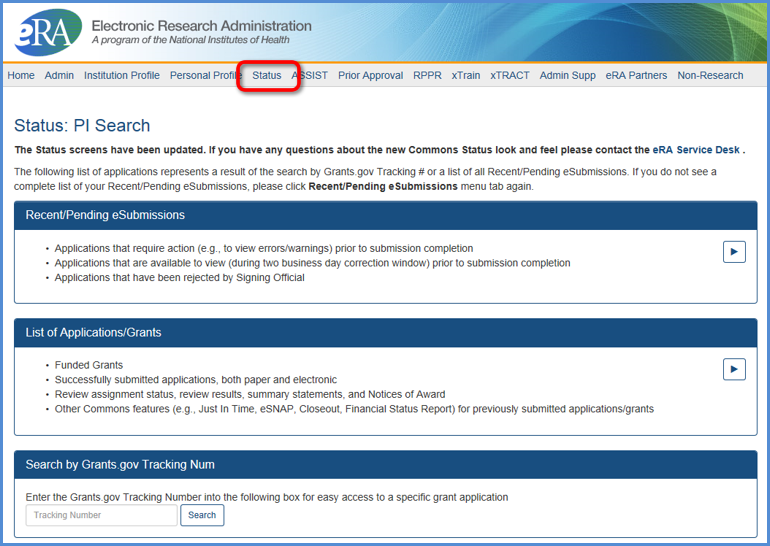 Figure 1: The PI Status Search screen showing the three categories for searching: Recent/Pending eSubmissions, List of Applications/Grants, and Search by Grants.gov Tracking Number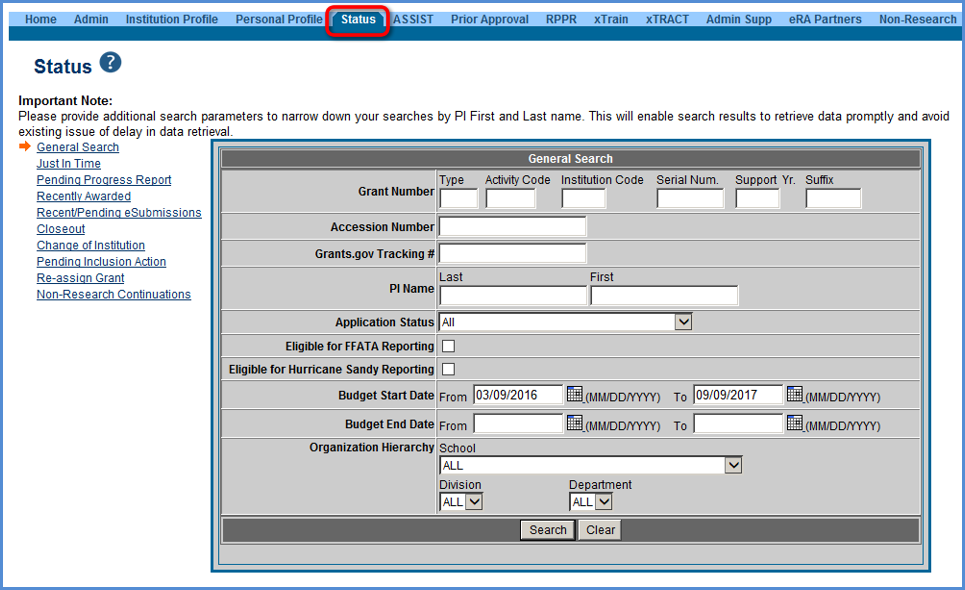 Figure 2: The signing official's (SO) Status search screen showing the many different search options (i.e. General Search, Pending Progress Report, Change of Institution, etc.)
What are the features?
Access to specific functions is based on roles or delegations to accounts
PD/PIs can see all the award applications for which they are the designated PI
SOs can search to access information for all applications for their organization
SOs and PD/PIs can view the status of an award application submitted through Grants.gov and view any errors/warnings identified by the eRA system during the submission process
SOs and PD/PIs can view an assembled application, just as a reviewer would see it
SOs can stop the submission of an application if it is determined that some part of the application was lost or did not transfer correctly during the submission process
SOs and PD/PIs can view grant number, review group, Institute/Center(s) and Scientific Review Officer assignments prior to application review
PIs can view the priority score, percentile, and summary statements
SOs can submit additional information requested prior to a final award decision via Just-in-Time
SOs and PIs can view the official grant award document (Notice of Award)
Status provides access (based on eRA Commons role) to all official documents
Launch reporting applications, such as the Research Performance Progress Report (RPPR),  Federal Financial Report (FFR), and Grants Closeout, through the Status module
View all progress reports due for the institution
Submit a variety of prior approval requests electronically, such as no-cost extension, application withdrawal, change of PD/PI, and carryover requests
Access and update human subjects information through the Human Subjects System
What are the benefits to the grantee community?
Status provides PD/PIs and SOs real time information on the status of their grant applications
One convenient location to view and process applications, post-submission functionality and post-award transactions
Status is secure so that a PD/PI can view only the applications for which he or she is the designated PI. The SO can view selected status only for investigators in their institutions.
Users can view names and contact information for agency staff assigned to a particular application record
What are the benefits to NIH or Agency staff?
Provides a single location for NIH or Agency staff to connect with applicants/grantees
Automated emails to PIs and/or SOs alert applicants/grantees if critical information is available  via Status
Who can see Status?
PIs and SOs registered with eRA Commons
Other eRA Commons users at the institution, who have been given the Status delegation.