Use the information on this page to find instructions on how to manage your publications in compliance with the NIH Public Access Policy.
eRA Commons has partnered with the National Center for Biotechnology (NCBI) to link NCBI's personal online tool, My NCBI, to Commons. My NCBI offers an online portal—My Bibliography—for users to maintain and manage a list of all their authored works, such as journal articles, manuscripts accepted for publication, books, and book chapters, and it allows them to track and maintain compliance with the NIH Public Access Policy. Commons also pulls in manuscripts from NIH Manuscript Submission System, publications from PubMed and PubMed Central, and citations entered into the My NCBI tool.
From the Awards View in My NCBI, eRA Commons users can track their compliance with the NIH Public Access Policy, start the manuscript submission process, associate their NIH grant awards with their publications and designate delegates to manage their bibliographies. Note that principal investigators must manage their professional bibliographies in My NCBI using the My Bibliography feature. eRA Commons does not allow for the uploading of publications.
NOTE: eRA Commons users will log into MY NCBI by clicking the NIH Login icon on the Sign in to My NCBI page.  eRA Commons users with the Public Access Compliance Role (PACR) can access the Public Access Compliance Monitor to assist in resolving common compliance problems (e.g., what to do if you believe that the compliance monitor incorrectly shows someone as being responsible for a non-compliant paper).
Basic Tasks (step-by-step instructions)
Main Screenshots
Click on thumbnail image to expand to full view.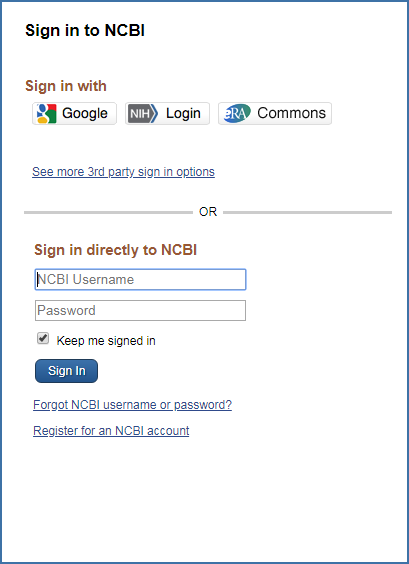 Figure 1: Sign-in to NCBI screen

Figure 2: Status screen showing Public Access PRAM link (Progress Report Additional Materials)
Additional Resources
Policy