Register in eRA Commons
Link to Register an Organization in eRA Commons
SOs can register their institutions at the Register Organization link on the eRA Commons home screen.
Summary of Steps to Register
Step 1 — Specify Purpose: On the Registration Purpose screen, the SO will specify the purpose for registering – whether the institution is registering for an NIH grant/contract; a non-NIH grant/contract or an Other Transaction. If applying for NIH grants/contracts, the SO will be asked to acknowledge having read the relevant section of the NIH Grants Policy statement, but those seeking Other Transactions (OTs) as well as eRA partners skip that acknowledgement; see Figure 1.
Step 2 — Choose Identifier: On the Verify Identification screen, the SO must enter the DUNS or Unique Entity Identifier (UEI); see Figure 2. Once entered, the SO clicks a Verify button (which checks to see if the identifier has been registered in Sam.gov) before the SO moves on to enter additional data.
Step 3 — Enter Contact Details: On the Institution Details screen, the SO will specify institution information and contacts. Note that if the SO enters the UEI or DUNS and the institution's full SAM.gov registration is active, the information will be populated from the institution's SAM account. The SO will need to enter emails where the Closeout Email and Notice of Award (NoA) communications should be sent.
Step 4 — Create Accounts: On the Accounts screen, the SO will create an initial Commons account for the SO and a second one optionally for the account administrator.
Step 5 — Review & Submit: The SO will look over the information and submit the request to the agency for processing. The SO will receive an email to verify the email address (the SO has 8 days to respond or the request is canceled) Once verified, a message will appear on the screen confirming that the registration request was successfully submitted. Subsequent emails will be sent by eRA to the SO about the status of the registration.
Receive Temporary Password: Once the request is approved, the SO will receive emails with a username and temporary password that is valid for two days. The SO will use the credentials received in the emails to log into eRA Commons and will receive a prompt to change the temporary password.
Log in and Confirm Registration: The SO will then log into eRA Commons, review and confirm the institution registration request. At that point, the institution is active in eRA Commons and the SO can affiliate, create and maintain additional accounts as needed.
Basic Tasks (step-by-step instructions)*
* You must be logged into eRA Commons with appropriate role(s) to complete these activities.

Main Screenshots
Click on thumbnail image to expand to full view.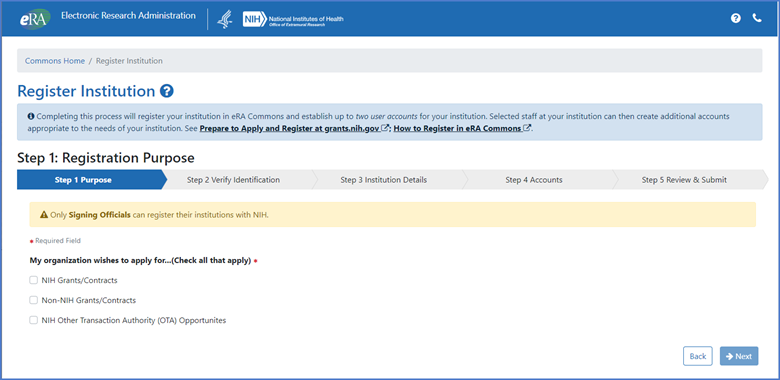 Figure 1: Registration Institution screen, showing Step 1: Purpose through Step 5: Review & Submit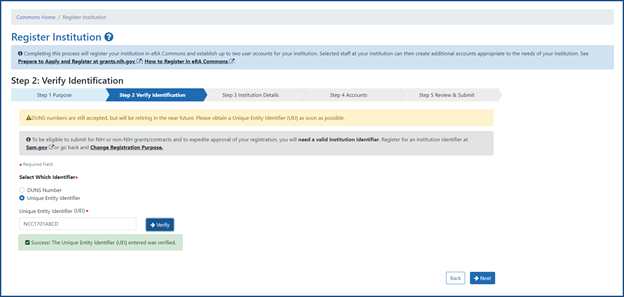 Figure 2: Register Institution screen, showing Step 2: Verify Identification

Additional Resources
Policy Links