"Kee-wik Wik" Queries Doin' A Waltz
Many many moons ago, I tried to learn ballroom dancing. The instructors were an elderly couple who were exactly what you would imagine ballroom dance instructors would look like living in south Florida.  He was mildly overweight and always wore a white suit and an Errol Flynn mustache. She had richly colored hair, and was slim to the point of being frail, until she got hold of you and suddenly you realized this dance stuff had some serious aerobic benefits. And in unison, they would count out the cadence by saying, "Kee-wik wik, kee-wik wik, and 3 and 4…. " as we tried to master the basic waltz sequence. To this day, it still rings in my ears.
And being quick (or kee-wik as the case may be) is a good thing for the eRA Commons Quick Queries. If you have never used Quick Queries before, these are a series of search tools found on the right navigation column on the eRA Commons login page.
The wonderful part of the Quick Queries is that to get to the information, you do not even need to log into Commons.  There are five quick queries, each designed to retrieve specific information:
Grants Pending Closeout (Find grants that will soon need to go through the closeout process)
Commons Registered Organizations (See if an institution is already registered in Commons)
Progress Report Search by IPF number (Find grants with pending progress reports)
IPF Number Search [Search for your institution's Institutional Profile (IPF) number]
Issued Notice of (Grant) Award (Get a list of awards made to your institution over a specific time period)
Three of these search options (Grants Pending Closeout, Progress Report Search by IPF number, and Issued Notice of (Grant) Award) require that you enter your institution's IPF number. The IPF number is assigned to your institution at the time the institution is registered in eRA Commons.  If you don't know your IPF number, you can enter the name of your institution on the IPF Number Search screen and run the query to get it. Or you can log into eRA Commons and visit your Institutional Profile; the number is displayed on the top left side of the screen. 
PLEASE NOTE:  Quick Queries have actually been around for a while, so it is possible that you, or maybe some of your colleagues, have bookmarked the primary page or even the pages for specific searches. However, these search tools are about to do their own kee-wik wik waltz away from old URLs.  And by kee-wik, I mean as of Tuesday, February 19, 2019. On this date, the old URLs will stop working.  If you have bookmarked any of the Quick Query pages, you will want to review those URLs.  If they are the older URLs, they will have '/chl/public/' as part of the address.  You will need to delete these old bookmarks, revisit the main page and retrieve the new URLs for the selected search options.
And if you're curious about my learning ballroom dancing, all I can say is that I am pretty sure after the first night of working with me, she started wearing steel-toed shoes. Kee-wik wik!
NIH Regional Seminar at Baltimore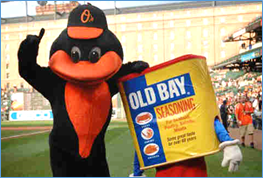 Come spice up your NIH grants knowledge at the NIH Regional Seminar on Program   Funding and Grants Administration, May 15-17, 2019! 
 Yes, it is that time of year!  Baseball, crab boils, and learning about the NIH grants process.   Optional pre-seminarworkshops include detailed information on topics like human research   protection, application preparation, post-application submission, intellectual property,   iEdison,  and more! 
 During the 2-day seminar, you'll find an array of concurrent sessions, designed for   administrators, researchers, grant writers, etc.  In addition, get more personalized guidance     during the 1:1 Meet the Expert chats available between attendees and NIH staff.  Check out   all the information at the NIH Regional Seminar web page.
Need help convincing your boss you should attend?  Check out this wonderful video that outlines all the advantages of attending the 2019 NIH Regional Seminar.
We will once again be hosted by the Renaissance Baltimore Harborplace Hotel, overlooking the amazing the Inner Harbor of Baltimore, filled with restaurants, attractions, museums and more.
Register today to reserve your spot!
Did you know that at one time blue crab was so abundant, pubs and bars of the area served it free, seasoned with Old Bay, as a way to boost drink sales? True!  And do you know what else is true…Old Bay is delicious on French fries, mac and cheese, in soups, on fish, on shrimp, on onion rings….