As announced over the summer, NIH will be requiring the use of updated application forms (FORMS-H) for due dates on or after January 25, 2023. Between October 25, 2022, and November 25, 2022, FORMS-H application packages will be added to active funding opportunity announcements.  The How to Apply – Application Guide was updated on October 25 with FORMS-H application form instructions to prepare for the transition. Also see Guide Notice NOT-OD-23-012.
All form changes are listed in High-level Grant Application Form Change Summary: FORMS-H.
A key change in FORMS-H is support for the implementation of the 2023 NIH Data Management and Sharing Policy. A new Other Plan(s) attachment field (see Figure 1 below) has been added on four application forms, where applicants can attach the required Data Management and Sharing Plan if required by the Funding Opportunity Announcement (FOA).
PHS 398 Research Plan

PHS 398 Research Training Program Plan

PHS Fellowship Supplemental Form
The intended due date for your application determines the correct form package to use.
Application due dates on or before January 24, 2023: FORMS-G
Application due dates on or after January 25, 2023: FORMS-H
For work in progress applications prepared using FORMS-G that need to be moved to FORMS-H for a due date on or after January 25, 2023, authorized users can use the copy feature in ASSIST to move the information in the existing application package to a new one. Grants.gov Workspace and many institutions' system-to-system solutions have similar features. After transferring data, check the new application information and complete any new requirements.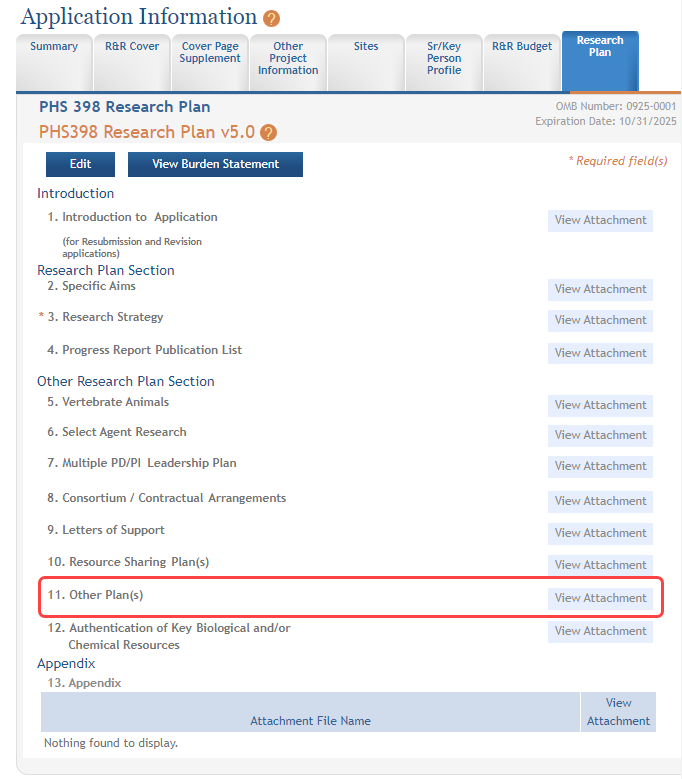 Figure 1: PHS 398 Research Plan screen in ASSIST, showing the Other Plan(s) field where applicants can attach the Data Management and Sharing Plan
Resources:
Form Instructions: How to Apply – Application Guide
NOT-OD-22-195: New NIH "FORMS-H" Grant Application Forms and Instructions Coming for Due Dates on or after January 25, 2023
High-level Grant Application Form Change Summary: FORMS-H