Beginning tomorrow, Thursday, October 27, 2022, signing officials (SOs) will have an option in the eRA Commons Status module to bypass the standard 2 business day application viewing window for administrative supplement applications. See the guide notice NOT-OD-23-011 for more information.
The viewing window is used by organizations to check the assembled application image for any issues before the application moves forward for agency processing. Although appropriate for competing applications, the application viewing window can cause unnecessary delays in the processing of administrative supplements.  Bypassing the window will speed up the submission process.
To bypass the 2 business day viewing window, the SO will use the eRA Commons Status module to search for Recent/Pending eSubmissions. Applications for administrative supplements within the 2 day window period will have a Verify link in the Actions column (see Figure 1), which the SO can click. Upon confirming the choice in a popup window, the application will be immediately released, and the user will not be able to submit a changed/corrected application.
Once the SO opts to bypass the viewing window, NIH will automatically forward the request to the appropriate grants management and program staff for consideration.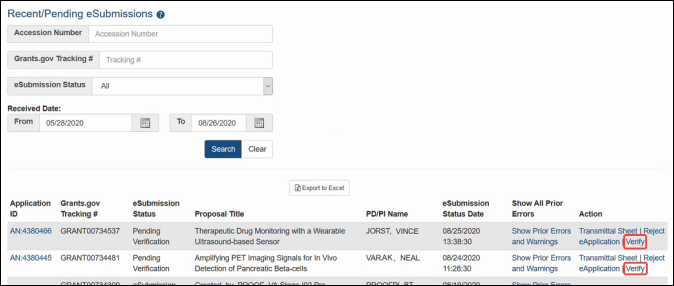 Figure 1: Recent/Pending eSubmission showing the Verify link in the Actions column
Resources: Status online help (following the release), Guide Notice.