Say farewell to the legacy eRA Commons home and landing screens. Introducing the 2021 edition.
eRA is excited to announce a newly redesigned home screen (log-in screen) and landing screen (screen when first logged in) for the eRA Commons module. The redesign is scheduled for release in January 2021.
New Home Screen (log-in screen)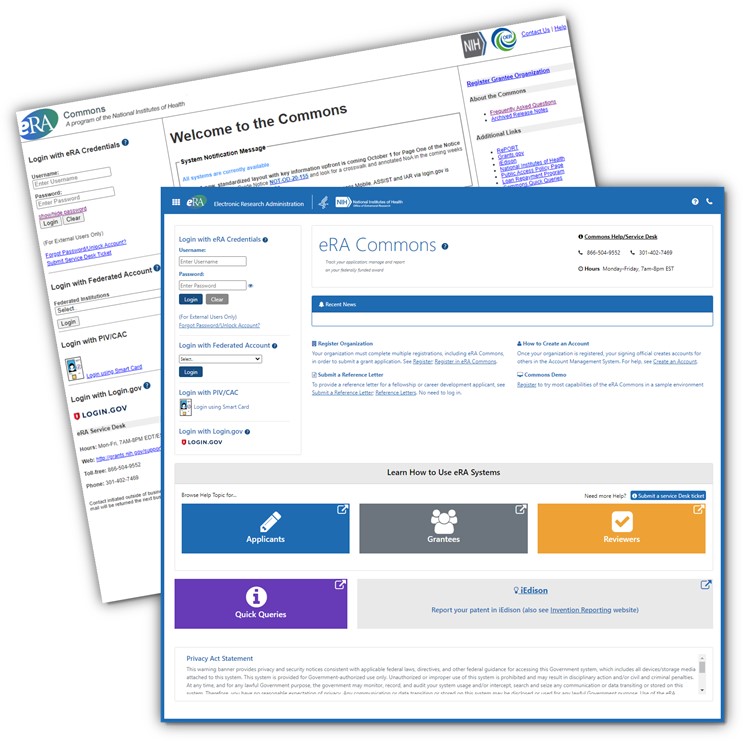 />
Figure 1: Screenshots of existing and future eRA Commons log-in screens
Key information will be front and center – eRA Service Desk contact info, links to register an organization, how to create an account, how to submit a reference letter and to learn more about how to use eRA systems.

Easy access to 'quick queries'; the queries help users figure out if their organization is already registered in Commons, which grants are pending closeout and more.

System updates will be provided in the Recent News section.
New Landing Screen (after log-in)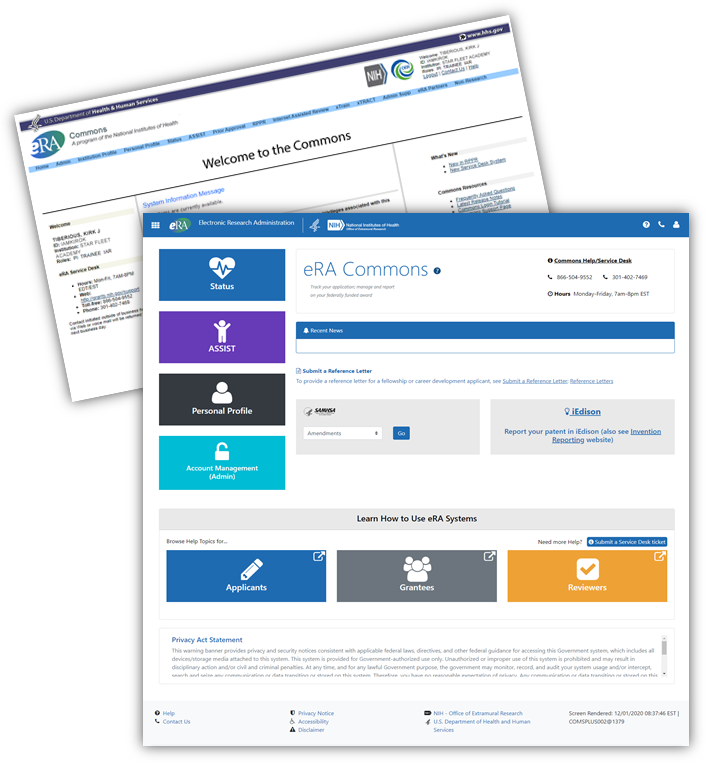 />
Figure 2: Screenshots of existing and future eRA Commons screens after log-in
Key Features (after log-in)
A significant improvement will be that once logged in, easy access to other eRA modules within eRA Commons will be through a 9-square apps menu at the top left of the screen . Clicking the icon will present a dropdown menu to navigate to other eRA modules (see Figure 3).

Gone are the days of cluttered navigation bars. After login, prominent buttons for the frequently used modules, Status, ASSIST, Personal Profile, and Account Management, will get you to where you want to go quickly.

Large buttons under "Learn How to Use eRA Systems" provide access to eRA informational webpages for applicants, grantees, and reviewers.
Apps Icon with eRA Modules Menu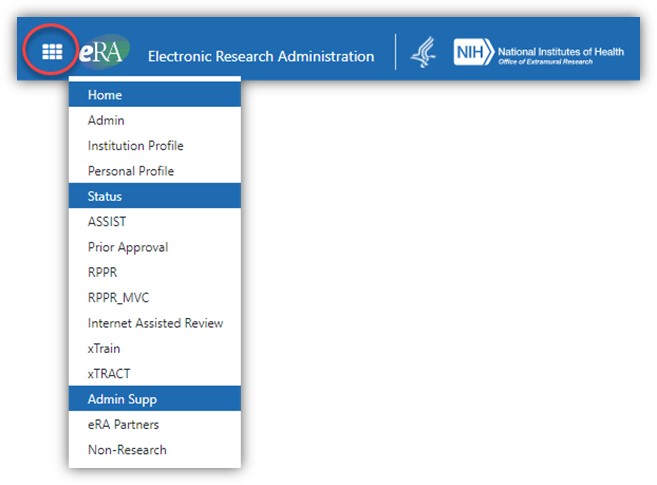 />
Figure 3: 9-square apps icon with the eRA Commons modules menu displayed
Note
: SAMHSA users, once logged in, will go to the SAMHSA box on the landing page (next to the iEdison box), choose from the drop-down menu listing Amendments, Continuations and Supplements, and then click the Go button.
Additional communications and resources will be made available closer to the release.
electronic Research Administration (eRA)
NIH Office of Extramural Research
Note
:
If users experience an issue with an eRA module after a release, they should completely clear out their browser cache, which will generally resolve the issue. If not, please contact the
eRA Service Desk
.
Need Help?
Submit a web ticket
; or call Toll-free: 1-866-504-9552, Phone: 301-402-7469. The Service Desk hours are Mon-Fri, 7 a.m. to 8 p.m. ET.