The Wrong Tools for the Right Job

I consider myself a handy kind of guy.  I do a fair number of home projects.  Many successfully. Well most.  OK, some successfully….sort of.  But this is not due to my lack of skill or knowledge (I tell myself); it is due to not having the right tools for the job.
When applying for a grant, it is critical that you have the right tools for the job.  In this case I am referring to software. It is that time of year when all the major software companies are pushing out new releases in time for the holiday shopping season and coming new year.  Adobe has recently released Adobe XI; Microsoft has launched Windows 8 and Internet Explorer 10. 
Before starting the grant application process, do not assume that the latest release of any particular software will be the best one to use.  When vendors change things, it takes time to test and certify if a new release will work with the current programs. When you consider what is at risk if you have a critical deadline approaching, do you really want to be adopting new software?  For example, just this week Grants.gov discovered an issue created by Adobe XI.  See their Technical Alerts for more information.
So before you start to fill out an application, check the software compatibility information at Grants.gov to make sure you are not using something newer than what has been tested and certified.
There is nothing more frustrating than trying to hammer a wood screw into a brick.  It just doesn't end well.
---
Handouts that are Handy? No Way! WAY!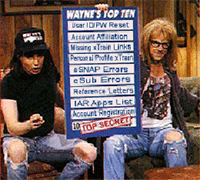 Earlier this month, NIH participated in the 54th Annual Meeting of the National Council of University Research Administrators (NCURA).
We had a wonderful 2 days of meeting and talking with research administrators from around the country and the globe.  Each one seemingly left the booth a little more informed, or a little happier at having had the chance to share their insights and stories of eRA Commons, or for having picked up a handful of helpful handouts.
We thought that since the participants of the conference seemed to find value in the little gems of information provided at the booth, we should make sure to share them with everyone.
There is the eRA Commons Help Desk Top Ten FAQs handout. This handout was put together by the folks that answer the phones, respond to the emails, and work so hard to help applicants and grantees.
Related to this is the New eRA Help Desk Ticket System.  Launched at the end of October, this new system has features designed specifically to meet the needs of eRA Commons users.
Do you have a Principal Investigator who has recently joined your institution?  Make sure they have the Switching Institutions? handout.  This PDF will guide them through the steps to affiliate their account with your institution.
And if you are looking for one-stop shopping, check out the eRA Commons Training page for more information.
"Wow! What a totally amazing, excellent discovery!
― Wayne Campbell
---
OER Facelift – New Look, Same Great Info!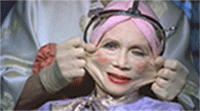 If you haven't visited the Office of Extramural Research (OER) web pages in the last few days, take a minute to check it out.  I'll wait…
Pretty nice!  So we (and by we, I mean people smarter than I am…aka our Web Development team) have done some stretching, some lifting, a little nip here and a little tuck there to create a new look for the OER web pages.
David Rosen, Chief, Web Development and Technical Branch says the new look "provides a clean layout, clear structure, and fresh colors setting a tone of professionalism and excellence in the NIH Grants process."
Which in the world of "Brazil" translates to… "Just me and my little knife! Snip snip - slice slice... can you believe it?"
The new informational carousel, the dynamic graphic section on the main page, is something you will want to check out often. It will highlight the newest and most critical things happening within OER. This month there is information for institutions affected by Superstorm Sandy, the new Research Performance and Progress Report (RPPR), and more.
"If it's a-sagging, a-bagging or a-dragging, I go get it fixed!"
― Dolly Parton