Sometimes Things Just Go Wrong – Dealing with System Issues

Have you ever had a time when things were just not quite right?  Like scraping frost off my car in April, or trying to submit a grant application only to get a "system error" message in response.  And what the heck does that mean exactly?  I don't know either, so here is what you do…
First, understand the definition of a system issue and the policy and procedures that protect you if you think you are experiencing one.  Basically a system issue is defined as a problem with a federal system (SAM.gov, Grants.gov, or eRA Commons) that has jeopardized the on time submission of an application.  Your laptop stuck in solitaire mode or unable to connect to your wireless network is not a system issue.  Well, at least it is not one of our system issues and therefore not one we can help you resolve.  So along with the definition, take a look at examples and non-examples of system issues.
So what do you do to protect yourself if you suspect you are experiencing a system issue? Make sure to follow the guidelines! This means BEFORE the submission deadline, you MUST:
Contact the help desk of the system that is giving you the headache, actively work with those folks to resolve the issue, AND…
Contact the eRA Help Desk and open a ticket with them and let them know you think you are experiencing a system issue.
Now, if you are close to the submission deadline, the eRA Help Desk can get very busy. Do not wait on the phone.  Open a web ticket or send an email explaining your situation and why you think it is a system issue.  What cannot be stressed enough is that it is critical that you document the issue BEFORE the submission deadline.  Each report of a system issue is individually investigated and confirmed by the Help Desk staff before any submission extension can be approved for the applicant by NIH.
One more point… registrations… not completing your required registrations in time for the submission deadline is not a system issue (unless there is a confirmed technical problem).  Remember we recommend starting the process for new registrations and/or renewals 6 weeks prior to the submission deadline.  In case you missed the SAM webinar SAM.gov CCR Account Migration and Update/Renew, you can watch it on YouTube 

.
Here's to no more frost on the windows and never getting the system error message.
---
Let's Get Personal… as in Profile

We know the mission of NIH is to seek fundamental knowledge about the nature and behavior of living systems and the application of that knowledge to enhance health, lengthen life, and reduce the burdens of illness and disability. We know (or at least I do) that the Office of Extramural Research (OER) has the mission to ensure scientific integrity, public accountability, and effective stewardship of the NIH extramural research portfolio. And within the OER, the electronic Research Administration (eRA) supports the mission-critical function of grants administration for NIH. eRA achieves this goal, in part, by the development and use of eRA Commons.  And eRA Commons is used by folks like you. And for you to use Commons, we have to know you.
SO let's get personal. In July, a new Personal Profile interface will be released for Commons.
We are very excited about the new look and think you will be as well.  The interface is sophisticated, clean and intuitive. New features will include  easy identification of missing data; information requested will be specific to your assigned role(s); information is displayed  about why we request each data element and how it is used (for instance, the information you enter about research-related jobs you have held in the past three years is used to determine conflict of interest for reviewers of your grants and for your own work as a reviewer); and the ability for you to update your email address in multiple places at one time.
We are already working on a date in mid to late June for a short webinar to demonstrate these and other new features, so keep an eye out for more information.
---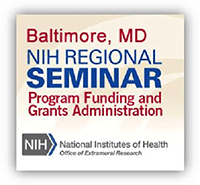 Well it is that time of year again when we all get together to share and learn from each other.  The NIH Regional Seminar on Program Funding and Grants Administration will be held in Baltimore, Maryland, June 26-28, 2013.  And the sooner you register, the better (saves you money).
"This was my first regional seminar and it exceeded my expectations. It put a friendly face on NIH faculty, allowed me to meet folks from all over the world, and the questions and comments "between the slides" were the most helpful!"
During the seminar, you will have the chance to interact with over 35 NIH and HHS staff who come together to educate, share, and listen to attendees over the course of two days, June 27th – 28th. This is your opportunity to make direct contact with NIH policy officials, grants management, program and review staff, eRA Commons experts, as well as representatives from the Office for Human Research Protections (OHRP), and Office of Research Integrity (ORI), and more. In addition, take advantage of networking opportunities to learn from fellow attendees from around the world.
And if that was not enough, remember June 26 is the optional one day eRA Workshop. This interactive day will take you from finding an opportunity to grant closeout! Feel free to review the agenda and then sign up on the registration page. Limited space is available, so grab the last seats today!
The Renaissance Baltimore Harborplace Hotel will be host to this year's event.  Renaissance Baltimore Harborplace, in downtown Baltimore, Maryland, sits poised overlooking Baltimore's famous Inner Harbor.
Referred to as Charm City, Baltimore offers a diverse pallet of exploration. Baltimore's character is a result of its rich history, once the 2nd largest port of entry for immigrants to the U.S., it remains a city of neighborhoods. One of the most popular areas, Downtown Baltimore, is the city's main commercial district, home to Camden Yards, Baltimore Convention Center, the National Aquarium, and host to the annual Baltimore Grand Pix races.
We look forward to seeing you in June!