If Three's Company…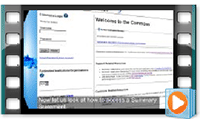 …then it is getting very crowded on the eRA Video Tutorialspage! 
We proudly announce the posting of three new videos for your viewing enjoyment (and if not enjoyment, then at least you might learn something new from them).
Here are the newest videos to "hit the streets…"
Status for PD/PIs (PD/PI Only)
This video reviews the steps for accessing the features available to a Program Director (PD) / Principal Investigator (PI) in the Status module. The video also examines the search options and organization of the Status Result screen table.
Detailed Status Information (SO & PD/PI)
Video 5 of this series looks at the Detailed Status Information screen. The Detailed Status Information screen is the culmination of the latest information about your grant application, including critiques, scores, NIH contact information, award information, and more.
Accessing the Summary Statement (PD/PI Only)
Video 6 of the Status series looks at the steps a Principal Investigator (PI) takes to access the Summary Statement. Additionally, the video summarizes, at a high level, the review process for grant applications. It is this review process that generates an evaluative document called the Summary Statement.  Because the Summary Statement is considered an evaluation, it is only

The web team is at it again…
You can now save your searches when looking for Funding Opportunity Announcements (FOAs) and/or Guide Notices.
This is cool, simple, and it works.
If you go to the main NIH grants page, in the center of the page you will see a nice blue Funding box. And within that box there is a link called Advanced Search. Set up a search as you normally would, define your parameters using key words, status, issuing organization, etc. and then click the Search button at the bottom of the window. 
When you get your results, you will see an option to save the search, and ironically it looks just like the graphic above. When you click Save this Search, you will be prompted to provide an email address and a name for the search. You can also select the frequency of your notifications (daily, weekly, or monthly). Enter this information along with a security code (provided on the screen) and Wa-LA! Presto Magico!  You will be alerted when notices and/or FOAs are posted that meet your criteria.  After clicking the Save this Search button, you will also receive a confirmation email with a hyperlink for your named search and an unsubscribe button (which is also way easy… one click and done).
And as if that is not enough, you can have an unlimited number of saved searches!  Once again, those wild and whacky web folks are working hard to make your life easier!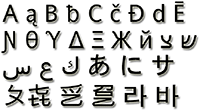 Unicode is coming to NIH. It is important, and complicated, and important…
Unicode is a way that computers can understand all the modern characters of almost all the written languages in the world. Greek characters are particularly important to people communicating about their science. This upgrade will allow eRA to be able to recognize Greek characters in the attachments that you submit with your grant applications, progress reports, etc.
So all systems, including eRA Commons, ASSIST, and IAR will be offlineover Memorial Day weekend, 2014. The systems will be brought down on Friday, May 23 at 9:00 PM ET and full service is anticipated to be restored by Tuesday, May 27 at 7:00 AM ET.
For more details about the Unicode project, please see Guide Notice NOT-OD-14-071 and the related notice in the impact of submission dates: NOT-OD-14-070.