Continuous Submission: Do I or Don't I?

Occasionally we get  this question: "I have participated in the peer review process, how do I know if I am eligible for Continous Submission?"  Well, to answer that question effectively, let me review what the peer review process is and why that makes some people eligible for this perk called Continuous Submission.
NIH evaluates applications by a dual peer review process as mandated by statute, in accordance with section 492 of the Public Health Service Act and federal regulations governing "Scientific Peer Review of Research Grant Applications and Research and Development Contract Projects."
The first level of review is carried out by a Scientific Review Group (SRG) composed primarily of non-federal scientists who have expertise in relevant scientific disciplines and current research areas. The second level of review is performed by Institute and Center (IC) National Advisory Councils or Boards. Councils are composed of both scientific and public representatives chosen for their expertise, interest, or activity in matters related to health and disease.
As a way of recognizing their service to NIH, reviewers with substantial review service are permitted to submit their research grant applications (R01, R21, or R34) on a continuous basis and to have those applications undergo initial peer review in a timely manner. This process is referred to as Continuous Submission and applies to those peer reviewers with recent substantial service (six times in 18 months).
It is important to note that the Continuous Submission option ONLY applies to the R01, R21, and R34 Activity Codes and ONLY to FOAs using those activities with standard submission dates. 
So the answer to the question as to how one checks their Continuous Submission status or the status of a PI is:
In eRA Commons, from the Advanced Search Tab under accounts, you can search by PI and one of the columns is CS Eligible.  If they are eligible, it says yes; if they are not, it is blank.
If you are delegated to see their personal profile, it can be found under the Reviewer Specific tab in their personal profile along with the committees they have served on.
There is a list online at this link http://grants.nih.gov/grants/peer/CS_2012_combined.pdf.
Additionally, if the Principal Investigator (PI) is also the Signing Official (SO), that person will need two separate accounts since Continuous Submission status is only tracked for PIs.
---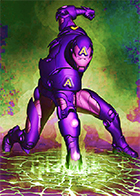 There was Superman, Batman, Spiderman, The Hulk, Ironman, Thor, and NOW ASSIST-MAN!
OK, so it's not that impressive in the super-hero world.  But in the real world of multi-project grants and application submission, we think you will find ASSIST to be pretty heroic.
As discussed in October's Items of Interest (The 800 Pound Gorilla – and thank you to the many kind folks who gently pointed out that my image was more likely an orangutan, Pongo pygmaeus,suspects Jill J), ASSIST is a web-based system that allows applicants to initiate an application; set access controls for various parts of the application; run a complete check against NIH business rules to figure out errors before submission; and view an application image before submitting to Grants.gov.
ASSIST went online in early November, and on January 23rd we received our first ever electronic submissions of multi-project applications! It was a historic day!  With a system as complex and encompassing as ASSIST, it is not surprising that we discovered some undocumented features (aka bugs). But those were quickly identified and addressed. And we continue to identify features for the wish list, some of which we expect to be able to accommodate before the September transition dates.
We would like to thank both the institutes and the applicants for their willingness to be the test subjects on this exciting advancement in the processing of NIH grant applications.  Everyone working through this new process has been patient, helpful with constructive feedback, and has maintained a wonderful sense of humor as we have all learned together.

Remember, ASSIST is a powerful, and intuitive application that deals with some very complicated scenarios (multi-project applications), so if you need help, make sure to look for the Help Icon to access the help files or contact the eRA Commons Help Desk.  We also have some great resources on the web and training materials to assist you (sorry, I couldn't resist!).
You will also want to look at the Transition Timeline to see current pilot opportunities and see when activity codes that are of interest to you are due to be transitioned to electronic submission.
---
Flag on the Play – Referee Reference Letters

If you have ever submitted, or been asked to submit, a reference letter, then you will be aware that you have to upload the letter to eRA Commons as a PDF formatted document. The PDF guidelinesoutline the specifics required for NIH PDF files.
Additionally Grants.gov offers several resources for getting PDF Conversion Programs and other software related to grant application processing.
And even after you download a converter and make all your attachments into PDFs, you may still get flagged when uploading the letter.  The error may even tell you your PDF is not a PDF (now that's unsportsmanlike conduct!). If this happens to you, allow me to make a few suggestions to try to resolve the issue:
Double check what you are attaching. Is it a PDF?  Is it the correct PDF? Or did you accidently grab another file?

We have received everything from kids' homework, to cooking recipes, to family photos.
Review the PDF Guidelines to ensure the file name is appropriate and within the specified limits.

File naming rules have recently changed, so it might be good to review the guidelines again.
Try using a different browser. 
Believe it or not, all browsers are not the same (I think I just got flagged for stating the obvious!). Each type, and even different versions of the same type of browser, can deal with the upload process differently, sometimes leading to an error.
eRA continually tests Commons on Internet Explorer and  Firefox.  The challenges are varied and many.  We can never be sure if the issue is with a computer setting (possibly some security option set on the local computer); a browser setting (as we rely more on the World Wide Web, browsers have become more complex, more powerful with many more optional settings); a network issue (network scanners and traffic monitors add potential challenges); or an issue within Commons.  The frustrating part for us, as at the time of the article, we have not been able to replicate the problem which makes it nearly impossible to identify the root cause.  But we will not stop digging!