What is the purpose?
xTrain is an eRA Commons module that allows program directors/principal investigators, university administrators, and trainees electronically prepare and submit PHS 2271 Statement of Appointment Forms and PHS 416-7 Termination Notices associated with institutional research training grants, institutional career development awards, individual fellowships, and research education awards. Agency staff also use xTrain to review and process the appointments and termination notices that are submitted electronically.
Although xTrain does not support the electronic submission of the PHS 6031 Payback Agreement, it makes it available for downloading/printing, with instructions for signing and submitting the agreement through postal mail. xTrain populates the basic information before printing.
* You must be logged into eRA Commons with appropriate role(s) to complete these activities. 
Main Screenshots
Click on thumbnail image to expand to full view.

Figure 1: xTrain Awarded Grants screen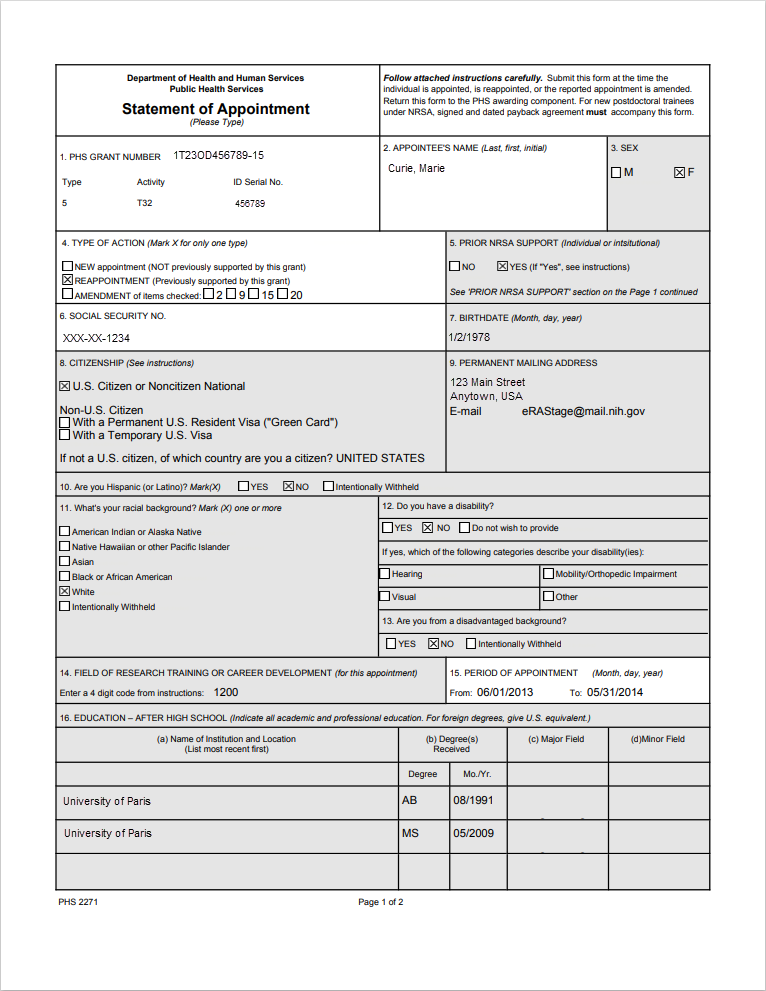 Figure 2: Trainee Appointment Form 2271
What are the features?
xTrain lets users:
View the List of Appointments and Terminations
Accept appointments or terminations
Place appointments and terminations on hold and release them
Reject (Route back to Institution) appointments or terminations
Delete appointment and termination forms from the system before they are accepted by the Agency
Accept appointment and termination forms without validating errors
View a PDF version of the appointments and terminations
Revert accepted appointments that have not yet been terminated and accepted termination notices to prior state (available only for TA Super admin users)
What are the benefits?
xTrain enhances the quality of the data submitted because it validates the data at various stages before submission. Warnings can be corrected at the discretion of the applicant and errors stop the application in its tracks and the application needs to be resubmitted. It also removes the need to receive and track most of the signed paper documents associated with Appointment Forms and Termination Notices.
Who can use xTrain?
XTrain has an external and internal side, both accessed via eRA Commons. Externally, it is used by principal investigators, university administrators and trainees. Internally it is used by program staff and grants management specialists.
Please see the xTrain Online Help for more information.