Searching Existing FCOI Reports (Notifications)
Commons users with the FCOI, FCOI_ASST, or FCOI_VIEW roles have the ability to search for grants in their institution with existing FCOI Reports.

To search for an FCOI record:
After logging into Commons, navigate to the FCOI module, which opens the FCOI Search screen.
Enter the appropriate search information for returning the desired records. The following fields are available for entering search data:

FCOI ID #
Grant Number

Status

(All, Work in Progress, Submitted, Rescinded, Returned to WIP, Annual Report Due)
Investigator Name (Last, First, Middle). Search for those FCOIs associated with a certain investigator who has a conflict.

Record Submitted Start Date Use this along with the end date field to return records submitted within a certain date range.

Record Submitted End Date

Click the

Search

button.

NOTE: Clicking the Clear button clears the information in the search fields.

The matching records based on the search appear in a table at the bottom of the screen. The columns in the table are sortable by clicking the up/down arrows in the column headings (for all columns except Action).
If more than one record of an FCOI family are in the search results, the FCOI # and Grant # will only display for the first record.
The data in the search results is as follows:
FCOI #
Grant #
Date Submitted
Investigator Name
Status

FCOI Type

(Original, Revision, or Annual Report)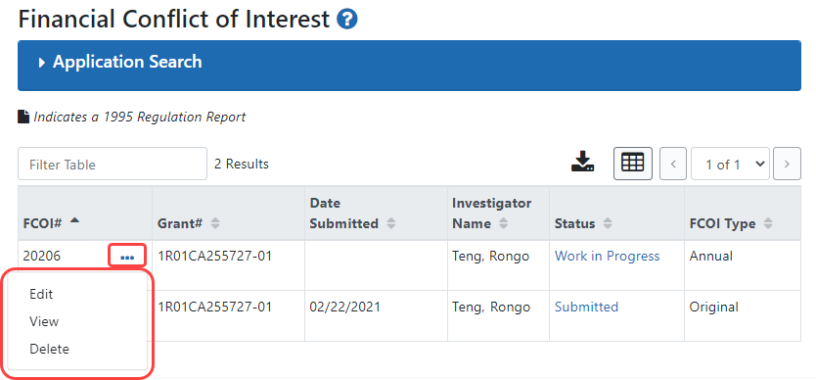 NOTE: The FCOI Type column displays an asterisk (*) next to the type for all 1995 Regulation FCOI Reports (e.g., Original*).
The Action column displays each available action as a link (options vary depending on the user's authority and/or the status of the FCOI Report).

Clicking the link performs the associated action.
The Status column displays the status of the FCOI Report in a link.

Clicking this link opens the Financial Conflict of Interest History screen for the grant.