How Does an SO See the Review Outcome?
Review Outcomes are found in Summary Statements, which include bulleted critiques from assigned reviewers, a brief summary of the discussion, the overall impact score, criterion scores from assigned reviewers and more. The summary statement combines reviewers' written comments and the Scientific Review Officer's (SRO*) summary of the discussion surrounding your application during the review meeting.
As a signing official (SO) on an NIH or VA (Department of Veterans Affairs) grant, you can view summary statements for applications submitted by your institution after they are released by the SRO following the review meeting. You use the Status Information screen to see summary statements, as well as percentile (if available), impact score, and other review indicators resulting from the review. Impact scores are made available in eRA Commons ahead of the summary statement.
Policy: Scoring System and Procedure
Guide Notice:NOT-OD-20-126
To view a Summary Statement:
Log into eRA Commons.
On the General Search screen, enter criteria to find a grant application and click Search.
In the Search Results, click the Application/Award ID.
The Status Information screen for the application/award appears. For a list of possible application statuses, see https://era.nih.gov/docs/era_status_codes.pdf.
Scroll down to the Other Relevant Documents section and click the Summary Statement link, which opens the Summary Statement PDF in a separate window. This link appears only if the application has completed a peer review process and if the granting agency is NIH or VA.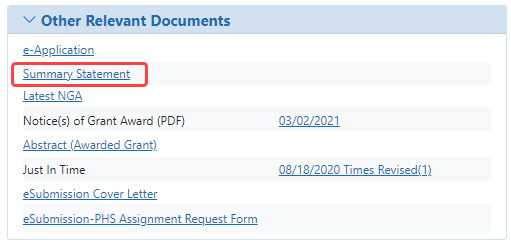 You can see abbreviated review information, including the percentile and impact score, in the

Review section of the Status Information screen. Expand this section to see the following:

Application:

Award Document Number
FSR Accepted Code
Snap Indicator Code
impact score
percentile
Early Stage Investigator Eligible
New Investigator Eligible
Eligible for FFATA Reporting

Study Section

Scientific Review Group
Council Meeting Date
Meeting Date
Meeting Time
Study Roster

Advisory Council

Meeting Date
Meeting Time
*Other Transaction Authority (OTA) - Some screens and terminology may be different in order to accommodate review of OTA, a type of award that is neither a grant nor a contract but a different way of funding that is being used across NIH. These changes will typically not be visible to NIH or agency reviewers.