Just in Time (JIT) Search for SOs
This topic pertains to the Just in Time (JIT) search screen available to signing officials (SO). 
To see related help:
- General Search screen for SOs, see Steps for AOR/SO to Check Submission Status.
- JIT screen available to VA applicants, see Just in Time (JIT) for VA Applicants.
- JIT search screen available to VA agency staff, see Just in Time (JIT) Overview for VA Agency Staff.

As a signing official (SO), you might receive an auto-generated email from eRA Commons alerting you that a Just in Time request has been made on one of your institution's applications. If this happens, the program director/principal investigator (PI/PD) and the SO work together to upload required requested documentation. The PI/PD can save the JIT package, but only the SO can submit the package to the agency.
NOTE: The JIT link is removed once an application has been awarded.
To search for an applicant that has a current JIT process (SOs only):
In eRA Commons, navigate to the Status module.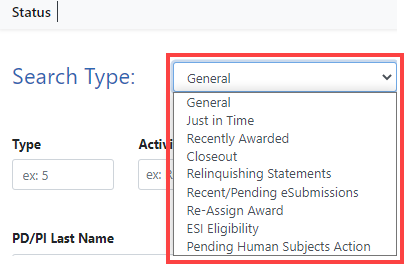 Click the Just In Time link at left (outlined in red here).
The SO Search screen appears.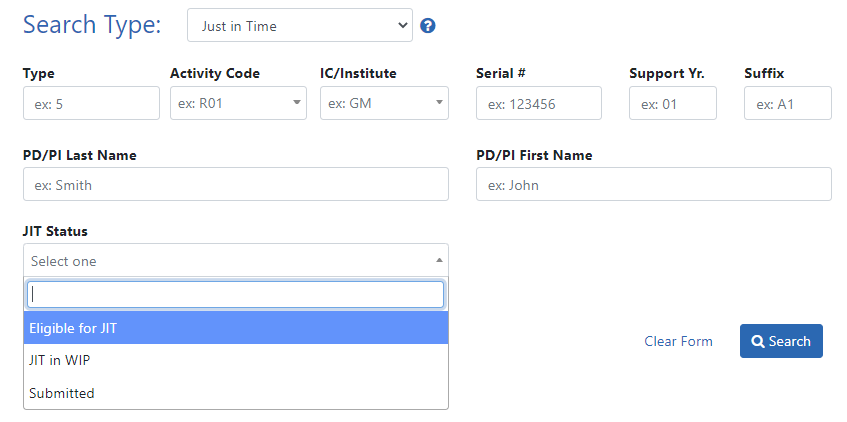 Enter search criteria to find a specific application, or use the Just In Time radio buttons to find:
Eligible for JIT: all applications eligible for JIT
JIT in WIP: all applications with an in-progress JIT, or
JIT Submitted: all applications with a submitted JIT. Then click Search.
The

Search results appear in a table
. See
Standard Tools for Tables
to learn about the filter and other table tool icons that appear over tables.

On the desired application, click the three-dot ellipsis menu and select JIT.
The JIT screen opens.
If you are working on a VA application, see Just in Time (JIT) for VA Applicants.
If you are working on a non-VA application, see Just in Time (JIT) Screen.