What's the Difference Between View and Edit?
While most Commons users are only able to view the information provided in the Institution Profile, SO users have the two options: view mode and edit mode. Only SOs can see the Policy Documents tab.
Viewing the Information in the Institution Profile
View mode provides a read-only summary of the information within a specific component of the profile. In view mode, not all fields are displayed. To see a section, click its name in navigation.

There are several methods for viewing the different sections within the Institution Basic Information of your profile:
Click the heading of the individual component
Click the

View

button from the header of an individual component to view that component's summary (Click

Hide

to collapse the component).
Click the

View

button for multiple components to display more than one at a time.
Click the

View All

button to display the summaries of all components of your profile (Click

Hide All

to hide them)
Editing the Information in the Institution Profile
If you hold the SO role, you can edit any available component of your institution's profile by

selecting the Edit button on the section's header. This expands the tile and displays the fields for editing. You can then update the information as necessary.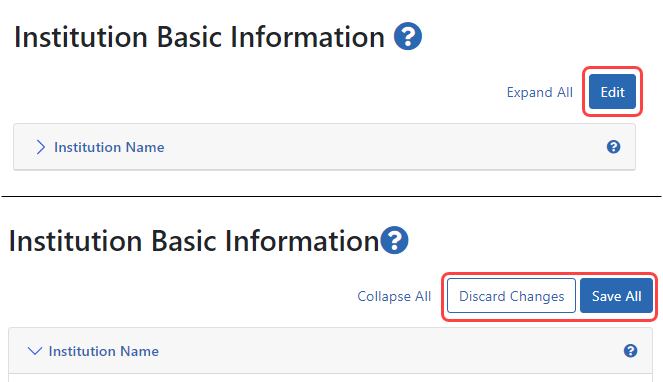 Keep in mind that when you select the Edit button for a component within the Basic Information section, it places you in edit mode for all components, although it may only open the specific component you selected. While in edit mode, you can continue updating the other components of the Basic Information by selecting the View button for each one.
As in the view mode, if you'd like to expand all tiles for editing at the same time, use the View All button at the top of the profile. Select the Hide (individual components) or Hide All to collapse the tiles.
When you are done editing the Institution Profile, select the Save All button. This is the only method of saving the changes you've made. Selecting Save All keeps you in edit mode, so you can keep saving your work along the way.

Click here for an image of your edit options.
Hiding or closing individual components of the Basic Information section is not the same thing as saving the information. If you navigate away from the personal profile, your changes will be lost. You must select the Save All button to save your changes!
If you wish to discard your changes, select the Discard Changes button, then select Yes from the confirmation pop-up message. Keep in mind that any information you've added since the last time you hit Save All will be discarded when you hit the Discard Changes button!
Refer to the help topics for each individual profile component to see what fields are available for editing.