Welcome to eRA Commons!
Access eRA Commons by entering the following address into your web browser:
https://public.era.nih.gov/commons
The eRA Commons login screen displays, which contains the following elements:
Methods for logging in. For help on login methods, see Logging into eRA Commons.
Learn How to Use eRA Systems. Panels leading to role-specific help for applicants, grantees, or reviewers.
Quick Queries. Search public grant information without logging in.
eEdison. Report patents or inventions.
Getting Started links. Learn how to register an institution, work with a demo environment, create accounts, or submit reference letters.
News. Latest eRA news.
Service Desk Contact Information. Get help from the eRA service desk.
After logging in, you see the

home, or landing, screen, which is similar to the login screen except that it has navigation to eRA modules.
Navigate to the most commonly used modules by clicking the module's colored tile or use the Apps menu to access all modules: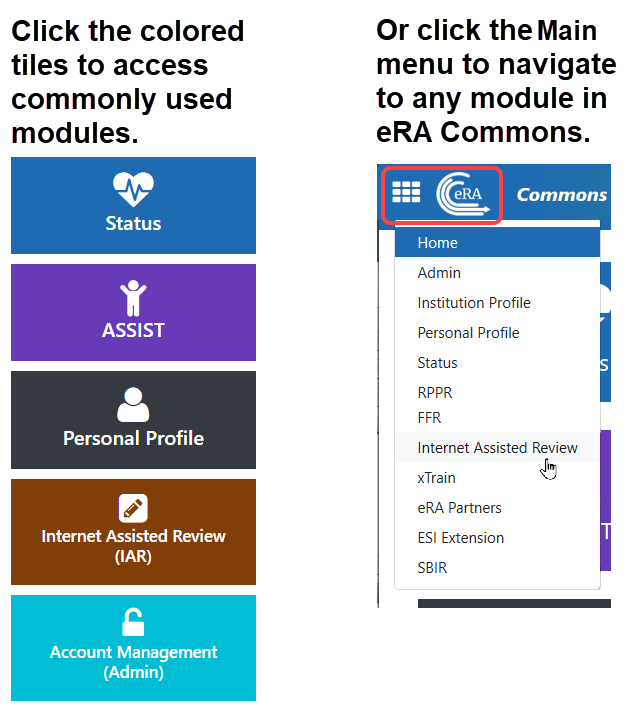 See your login information, institution, roles, and a Sign Out link under the person icon

in the header. It also contains links to change your password or manage your email preferences. For more information about the header, see Header and Footer Navigation.
The grey panel labeled SAMSHA gives you direct access to the Non-Research searches for amendments, continuations, and supplements. See Non-Research Amendments, Supplements, and Continuations (for Non-Research Agencies) for more information.

On any eRA Commons screen with a help icon

, click it to access context sensitive help for the screen you are viewing.