Prior Approval - Withdrawal Request
NOTE: Both PIs and SOs may initiate Withdrawal Requests but only an SO can submit them.
This type of request lets you withdraw a grant from NIH.

What Applications are Eligible for Withdrawal Request?
A PI sees applications on which the PI is listed as the contact PI that matches the following criteria.
An SO sees all applications for an institution that matches the following criteria.
Applications that have gone through council review and have any with the following statuses will not display as eligible to be withdrawn.
There are times that the agency may be taking action on the application that will prevent users from withdrawing their application through Prior Approval. In these cases, Prior Approval displays the following error: There is a pending agency action on Application, please submit your withdrawal request to Division of Receipt and Referral.
See Viewing and Initiating Requests for details on initiating a request. After initiating a Withdrawal request, you see the following details screen.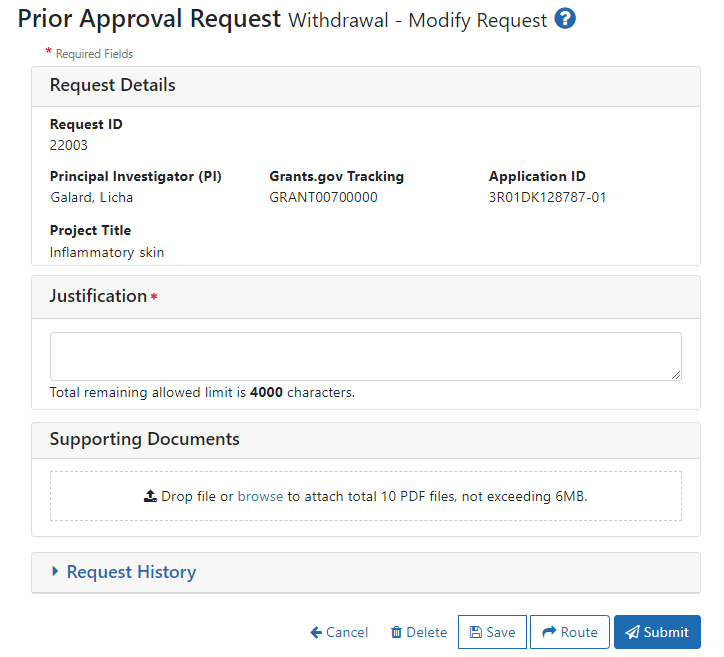 Be sure to fill out all required fields (with a red asterisk). You can drag and drop a PDF file from your file system onto the Drop file area, or click Browse to locate and select a file.

To view or remove a file you have uploaded, click the three-dot ellipsis menu and select View or Delete. If you upload the wrong file, you must delete it in order to upload another, as only one file is allowed to be uploaded.

Submitting the Request to the Agency
Canceling Changes to a Request