Changes to Planned Enrollment
If there are changes from the planned enrollment originally approved for funding, contact the program officer to discuss updating/revising the planned enrollment. For more information, refer to review the section titled "Section G – Special Reporting Requirements" of the RPPR Instruction Guide.  
Click the Human Subjects link in the Action column of the Status Results screen. This opens the Application Screen. Click the HSCT Post Submission tab and then the View button for the study requiring updates.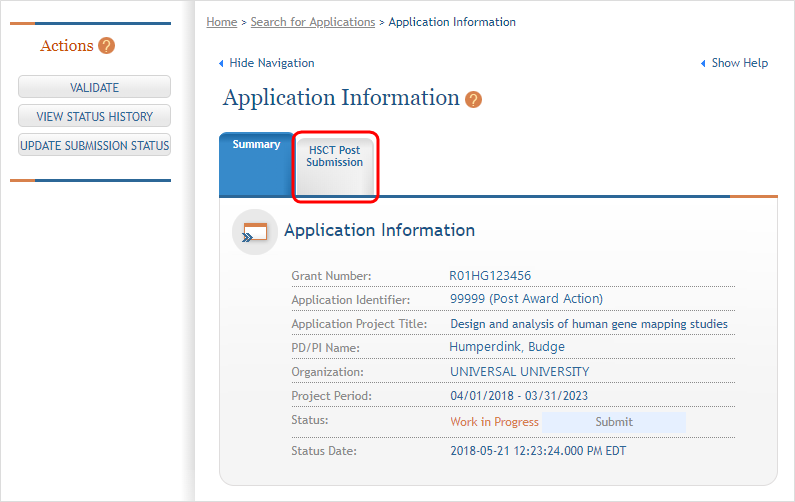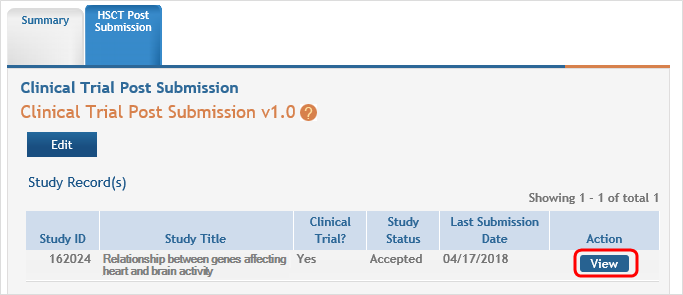 This will open the Clinical Trial Post Submission form. In SECTION 2 - STUDY POPULATION CHARACTERISTICS, click the Edit button for the report you wish to update.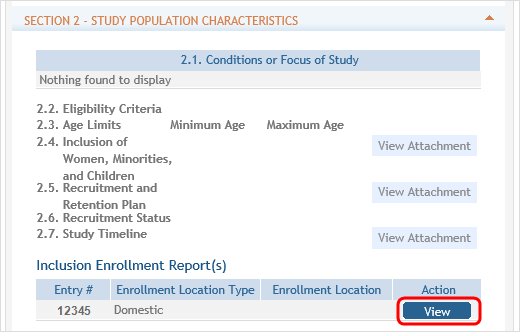 The Inclusion Enrollment Report will open in a new view and fields will be editable.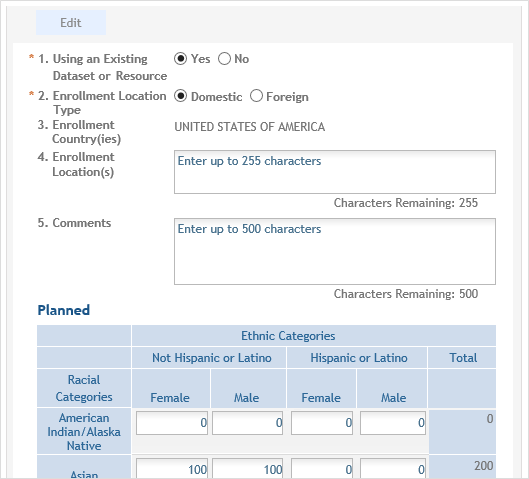 If the PI is making changes:
The PI can click the Save and Release Lock button to save the changes.
The submission status changes to Work in Progress.
PI changes status to Ready for Submission.
SO logs into ASSIST, finds the application, and submits it.
If the SO is making changes:
The SO can click the Save and Keep Lock button to save the changes.
The submission status remains in Work in Progress.
The SO must click the Save and Release Lock button to allow the application to have the status changed.
SO changes status to Ready for Submission.
The Submit action becomes active on the Application Information page.
SO clicks on the Submit button
Only the SO can submit the application to NIH. The submission sends all updated study records associated with the application to NIH at one time.
Program officials and grant specialists are notified automatically of study changes and can review those changes. Some changes may require prior approval.
NOTE: If the application has been submitted and needs to be placed back into a work in progress status, refer to these instructions to perform this action; https://www.era.nih.gov/erahelp/ASSIST/default.htm#ASSIST_Help_Topics/5_Preview_Print_Submit/Revise_Application.htm?Highlight=status
POLICY: For additional information on racial and ethnic categories or inclusion policy, refer to PHS Supplemental Instructions for Human Subjects or the OER inclusion web page.