Bypassing the 2-Business-Day Application Viewing Window for Administrative Supplements
After submitting an application, signing officials (SO) normally have a two-business-day viewing window to check the application and revise or reject (withdraw) it. After the viewing window has elapsed, the application automatically becomes available to receipt and referral staff for further processing. While this window is appropriate for competing applications, organizations submitting a non-competitive administrative supplement might want to skip the window and have the application available to be processed immediately.
To facilitate this, SOs can choose to bypass the two-business-day viewing window for non-competitive administrative supplement applications only. Signing officials use the Status module to search for the application and perform the Verify action, which verifies that the organization wants the application to be immediately routed to receipt and referral staff.
After an SO bypasses the viewing window via the Verify action, the administrative supplement is immediately released to receipt and referral staff. Additionally, the PI, with a cc to the SO, receives an email notifying them of the bypass action and of submission. Once receipt and referral staff is done processing, the PI for the project will typically receive an email notification that the administrative supplement was rejected or with a new Notice of Award if accepted.
See guide notice NIH Offers Ability to Bypass 2-Business Day Application Viewing Window as an Option for Administrative Supplements.
To bypass the 2-day viewing window for an administrative supplement (SO only):
Log in to eRA Commons as a signing official.
Navigate to the Status module and select Recent/Pending eSubmissions from the Search Type dropdown.
The Recent/Pending Submission search screen appears.

Enter criteria to find the application you wish to expedite and click Search. For instance, you could set the Received Date fields to today's date. Only administrative supplement applications submitted in the last two days contain the Verify action.
On the application you wish to expedite, click the Verify link in the Action column.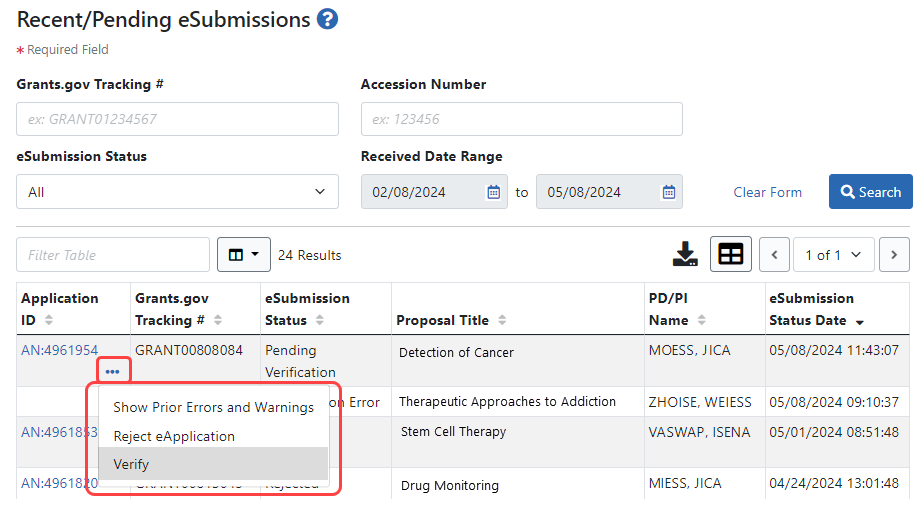 A popup asks you if you are sure you want to skip the 2 day viewing window and warns that the application will move to the next stage of processing and cannot be revised.
Click Yes in the Confirm popup window.
The administrative supplement immediately becomes available for agency staff to start processing the application.